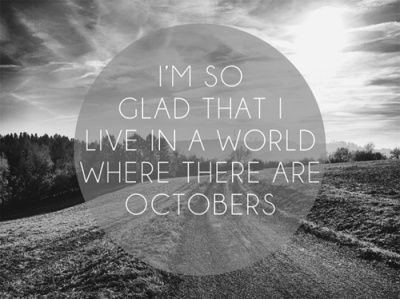 October. My favorite time of the year. It is at the peak of Fall awesomeness, and below are 11 more reasons why I love this month.
1. halloween...of course!
4. snuggling under extra blankets and sleeping with the window open. Ow!
7. apple and pumpkin picking
8. spiced cider and pumpkin coffee
11.
abc's 13 nights of halloween. muhahaha!
This October, we will spend countless hours in front of the television watching old and new horror movies because I live for them! We will go apple and pumpkin picking and drink hot apple cider even if it's 70 degrees out just because we can, and then paint and carve said pumpkins into the scariest faces because that's just how we roll around here. We will eat
yummy Fall-inspired foods until we are tired (neverrrrr!) and by god, we'll love it. And we will wear lots of skull, skeleton, and Halloween inspired clothing until they are faded away and gray.
source

Follow me on:
Facebook | Bloglovin' | Twitter | Pinterest | Instagram